Get Paid to Write
by Ellen DuBois on 08/21/21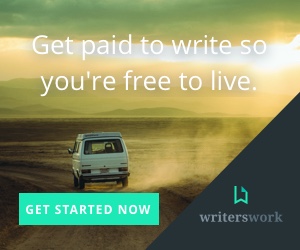 I enjoy finding resources for writers. There are so many out there and some include more tools for writers/authors than others. Take a look at Writers Work. It's very comprehensive. I believe it brings a lot to the writer's desk.
"Writers Work is the all-in-one platform for launching a writing career. Writers can find writing jobs, get career training, advanced writing tools, an online portfolio website, and more. Our advanced document editor has built-in grammar/style checking (over 2000 grammar rules) to improve and simplify writing."
Sign up for a Writers Work Account Today!


About me: My name is Ellen DuBois, born and raised in Massachusetts. I love New England with its changes in seasons and natural beauty.
I'm the author of I Never Held You: Miscarriage, Grief, Healing and Recovery
and Jackie's Heart
. Since 2006 I've been hosting MiscarriageHelp.com, a support site for women and their families who have miscarried.
I'm published with Blue Mountain Arts, and am a contributing author to several books including: Soul Matters for Teens, Sisters, (a Blue Mountain Arts gift book), Conquering Panic and Anxiety Disorders- Success Stories, Strategies and other Good News, Romancing the Soul, More God Allows U-Turns.
I'm also known as "Miss Ellen"- a piano teacher to students from 5 to tween and beyond. Music is another passion of mine and I'm blessed to share the gift of music. I'm also a shudder bug like my mother was. I love taking pictures.
Note: This post may contain affiliate links and I may be compensated a small commission at no cost to you if you make a purchase after clicking on my links.