Fashionista on a Budget? Think Thrift Shops!
by Ellen DuBois on 09/17/16
Today I was determined to find a denim skirt. I haven't had much luck finding one that fits right.
I saw Macys.com
was having a sale, so I headed over with one thing in mind: Find a denim skirt. I didn't want to get side tracked. I couldn't afford to.
With the help of some very nice sales clerks, I found a denim skirt. While it's not exactly what I wanted, (I'd like a longer one, too), the one I bought by Style and Co. is great and is a welcome addition to my wardrobe. It'll look super with boots.
Most of my black pants, (a staple in my wardrobe), are either looking pretty worn out, or, thanks to menopause, don't fit right anymore. Some, I accidentally shrank. Others decided not to "change" when my body did. Hmph. The nerve.
I had the afternoon to myself. After leaving Macy's and spending a grand total of $26.77, (thanks to a 50% off sale and a coupon), I headed over to Chic to Charity, now called Addicted to Thrift.
It's a massive store and very well organized. Everything is arranged by color and item. So, if you want a black top, you'll see an expansive rack of them. The same applies to skirts, pants, dresses and more. Find your color and what you're looking for and browse away.
I felt my pulse quicken as I searched isle after isle. I couldn't believe all the fabulous clothes I was looking at. Most were in excellent condition. Some had the tags still on them. I love when that happens!
Bonus! All items were 50% off! Wow. Was I excited! I didn't want to go over twenty-dollars. What? I can imagine what you're thinking. That's right. I had a limit to my spending. Thanks to it being 50% Off Saturday, (every other Saturday), I could buy twice as much. Score! Plus, the highest price on what I was looking for was $5.00, (tops) and $3.00 (pants). Cut that in half and I was looking at $2.50 per top and $1.50 for pants. What?!
If in fact I was looking for a prom gown, (I'm wayyyy past that), it'd be $10.00. Coats are also $10.00. I don't think the prom gowns are included in the 50% Off Saturday Sale. But, to any of you looking for a prom gown, you've got to check these out.
I found Talbots, 100% wool, color-block sweater in my favorite colors, black and red, (with a splash of gray). It zips up the front so I can wear it open or closed. Next, I came across a gorgeous Tahari black, open cardigan in a very airy knit- dressy and elegant. A bright red, Irish knit sweater by Ireland's Eye landed in my basket, (can't resist a good Irish knit), as did an oversized, beige, loose knit, cotton sweater from Old Navy, (a comfy, kicking around sweater). Then, I found a cute, black JJill pullover sweater I just had to have. It'll look great with the denim skirt I bought at Macy's.
I tend to wear black pants, with the exception of jeans, which I actually prefer in black. Today, I wore jeans that are blue, but with black top. I'm assuming you can see a pattern here. I'm stuck in color rut, but hey, that's nothing new.
What pants did I find? Well, the first were Express Design Studio pants, in black. The next were Ann Taylor Loft, also in black and the last pair were by Susan Graver in, you guessed it, black.
There was a dressing room there, but I felt funny and frankly kind of lazy about trying my items on. Plus, I kind of wanted to wash my new fashion treasures, too.
Up to register I went, my cart runneth over. After my five tops and three pairs of pants were rung up the grand total was: (drum roll please...) $17.00!
Yep. You read that right. Not a typo. $17.00! The cashier handed me my big bag of clothes and I left with ZERO guilt and a smile on my face. I held my thrifty head high as I walked with a new spring in my step to my car.
So, my friends. Don't be afraid of thrift shops. You can find amazing bargains on quality, (often times designer), clothing.
Go for it. You'll have fun!
Here's the denim skirt I bought at Macys: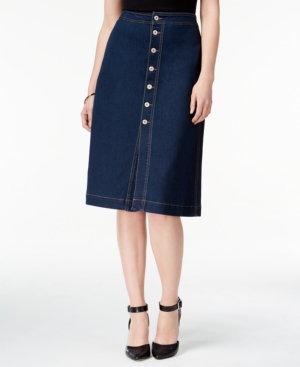 Ellen DuBois: I'm the author of I Never Held You: Miscarriage, Grief, Healing and Recovery
and Host of MiscarriageHelp.com. I've also been published with Blue Mountain Arts, and am a contributing author to several books including: Soul Matters for Teens, Sisters, (Blue Mountain Arts gift book), Conquering Panic and Anxiety Disorders- Success Stories, Strategies and other Good News, Romancing the Soul, More God Allows U-Turns. Additionally, I'm also known as "Miss Ellen"- a piano teacher to students from 5 to tween and beyond-
I love it!